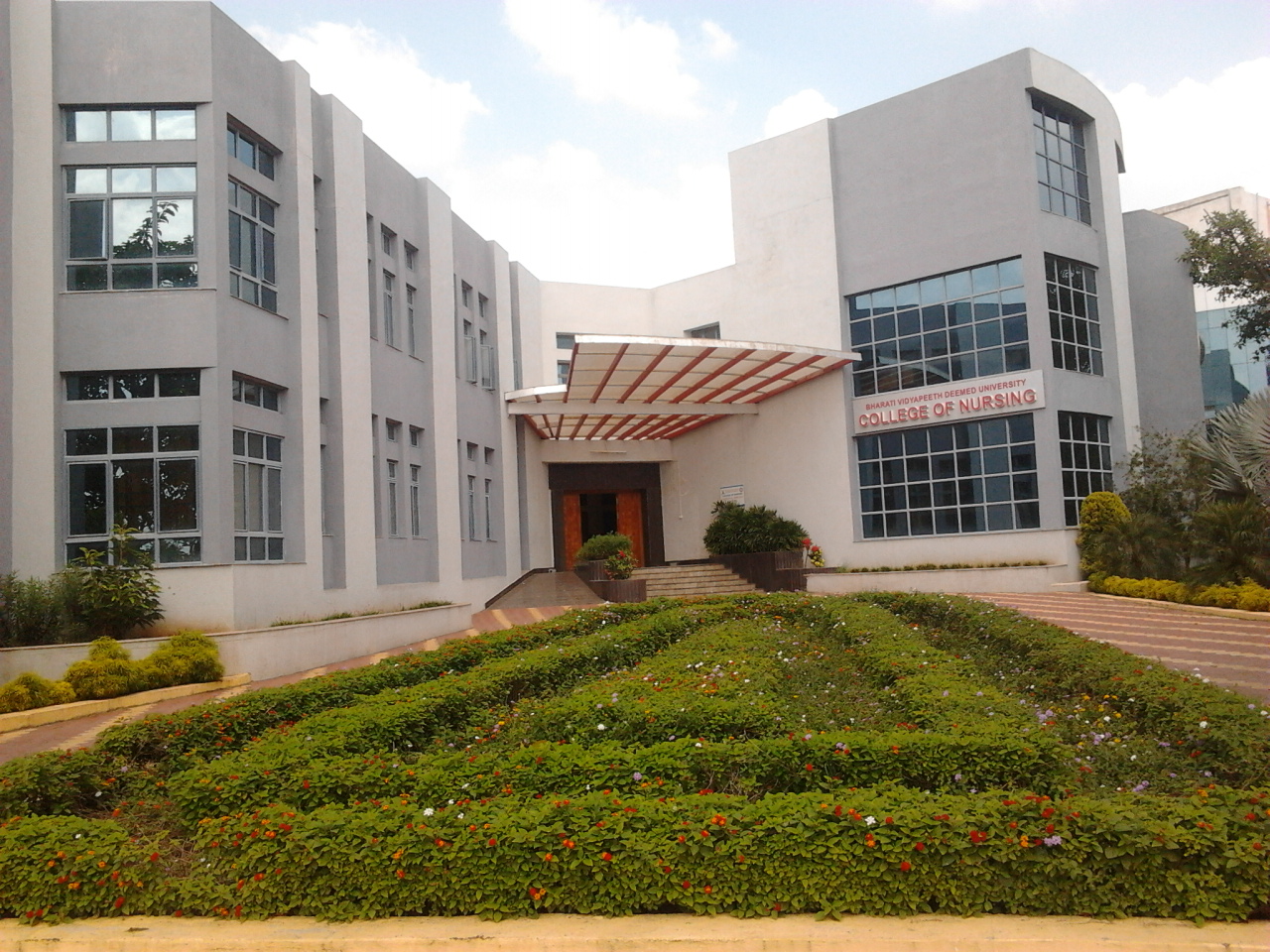 Bharati Vidyapeeth (Deemed to be University), College of Nursing, started in 2007 at Bharati Vidyapeeth (Deemed to be University) campus, Sangli. The constituent unit of Bharati Vidyapeeth (Deemed to be University). The college has the permission from Maharashtra Nursing Council, Mumbai and Indian Nursing Council, New Delhi. The college has 50 intake capacities for B.Sc Nursing , 30 seats for P.B.B.Sc Nursing & 25 seats for M.Sc.Nursing. Our college is equipped with Nursing Arts, Community Health & Nutrition laboratories, teaching aids & a departmental Library Since we have our own Medical college in the same campus, our students get exposure to the teaching of faculty members having expertise in Anatomy , Physiology, Biochemistry, Pathology & Microbiology & other subjects. Similarly, our students also have access to the library of our Medical College, which has a very vast collection of reference books. Our college also subscribes to journals and makes audio- video material & equipment available to the students. Hostel facilities with modern amenities are available to our student on the campus. The atmosphere in the college is very congenial for professional growth. M.Sc Nursing nursing programme initiated from 2012-13.
Type of College/University : Deemed university
About Affiliation
UNIVERSITY ACCREDITATION 'A+' Accreditation (Third Cycle) by 'NAAC' in 2017. 54th Rank among Universities by NIRF-2017 Recognized by University Grants Commission iNSTITUTE is Recognized by Indian Nursing Council and Maharashtra Nursing Council
Our Infrastructure & Facilities
Campus
http://bvuniversity.edu.in/index.php/campuses
Library
o Free internet facility a)Total No of Books - 8068 b) Total No of Titles - 1004 c) Total No of CD Rom - 395 d) Journals subscribed annually -34 Indian Journals -13 International Journals -21 e) Total No of Back Volumes – Bound Journals –6 f) E-Books -84 g) Online Journals - 2700
Laboratory
Fundamental lab, Nutritional lab, MCH lab, Child health lab, CHN lab, Advance Nursing lab, Anatomy Museum
Cafeteria
Students participate in Institutional level, inter university level , state level , national level and international level sports.
Sports
separate hostel facility availabe for girls and boys in the campus.
Transportation facilities
Bus facility is avalable for visit or community postings
Classroom facilities
Separate classrooms are available for all the programmes.
Other facilities
Indoor sports room is also availabe
---
Hostel details
Courses & Fees
| Course Name | Course Fees | Duration (Year) | Other Charges | Course Type | Branches Offering |
| --- | --- | --- | --- | --- | --- |
| B.Sc. [Nursing] | INR. 280000 | 4 | INR. 0 | Regular | Nursing |
| P.B.B.Sc.[Nursing] | INR. 130000 | 2 | INR. 0 | Regular | Nursing |
| M.Sc.[Nursing] | INR. 200000 | 2 | INR. 0 | Regular | Medical Surgical Nursing, Psychiatric Nursing, Paediatric Nursing, Maternal Health Nursing, Community Health Nursing |
Academic details
Faculty students ratio
1 faculty : 10 students
Faculty detail
PG teachers - 19 UG teachers- 09 total teachers - 28
Results of previous year
---
100%
Admission details
| Starting Date of the Admission | 2018-04-01 |
| --- | --- |
| Closing Date of the Admission | 2018-06-15 |
Process of Admission
Admissions will be through CET conducted by university at various centres like Delhi, Pune, Mumbai, Sangli etc
Counselling Details
Counselling will be held at Sangli, Pune and Mumbai
Eligibility Criteria
Basic B.Sc.(N)- HSC/ PUC (12 years Course) passed with 45% aggregate in (Physics, Chemistry, Biology) for open category and 40% for SC/ST. Post. Basic B.Sc (N) - HSC/PUC(12 years course) with GNM re
Scholarship details
students gets Minority scholarship. SC/ST scholarship not available
Contact details

Wanlesswadi, Sangli-Miraj road, Sangli-416414 Maharashtra, India

Email address : nursing_bv@yahoo.com
Contact number :
NearBy_PG
---